It's Hot! At Sunspear Energy we love the sun. It brings our customers energy to run their homes and businesses. Keeping the lights and electronics humming, the air conditioning cooling, and those all-important appliances making lives easy.
But in the heat, maybe you'd rather be spending time in the water and the exciting rides at Wet 'N Wild. We can help with that.
Win With A FREE Quote
From June 18 through June 27, when you complete a free quote with Sunspear Energy's Solar Calculator you'll be able to see how much solar energy can save you…And you'll have the chance to win 2 FREE passes to Wet 'N Wild.
Must be a Hawaii resident, and must upload a photo of your utility bill & electrical panel to the solar calculator. 1 pair of tickets will be given out per day from June 18 – 27, 2021. Winners will pick up their tickets at our Sunspear Energy office, 525 Kokea Street, Suite C6, Honolulu, HI
Refer A Friend And Everyone Wins!
Do you know others who might benefit from solar too? Refer Sunspear Energy to your friends and family and if they sign up with us, you will earn rewards! It's easy to track and collect your referral commissions through the Sunspear Energy App!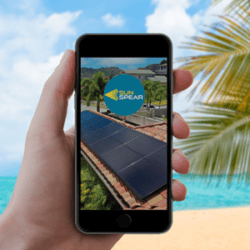 $50
Verified Referral
Once we have qualified your referral.
$500
Sold Referral
Once your referral makes a purchase.
$1,000
Bonus Rewards
For every Five (5) referrals sold.